10 Most Luxurious Pickup Truck Interiors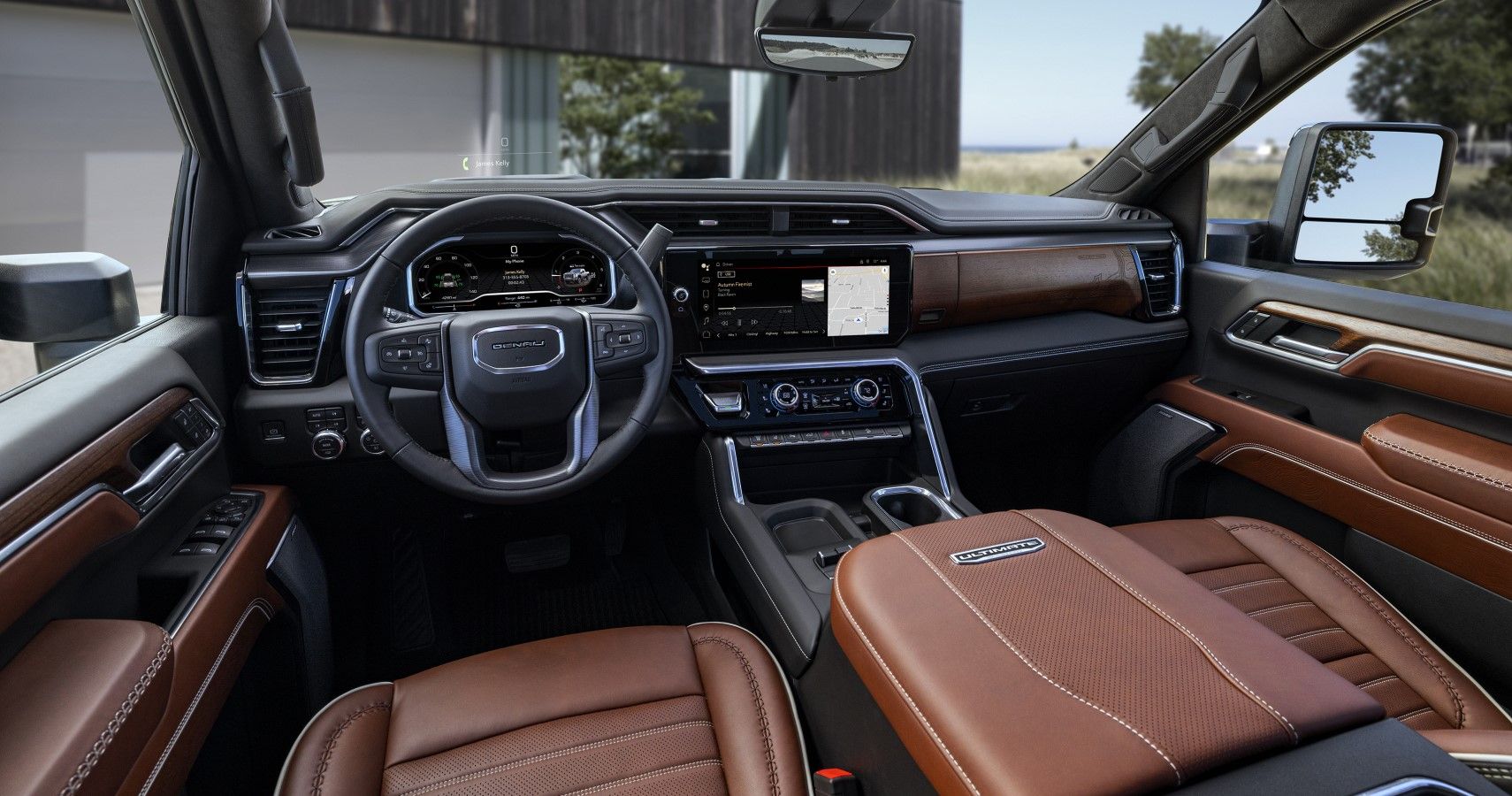 When buying a pickup truck, many people focus on handling, towing capacity, off-road capabilities, cabin space, and overall functionality. But have you ever imagined pickup trucks whose utilitarian side is perfectly paired with elegance, and whose interiors of spectacular opulence don't mean a sacrifice in practicality? Today's pickup trucks are designed with interiors and flashy details that rival the most spacious SUVs. Even the most affordable pickup trucks on the market today offer a host of creature comforts, including premium accouterments, the latest technology, and great infotainment systems.
If you are in the market for a pickup truck, you can easily find a truck stuffed with all manner of comfort and convenience features. However, not all fancy truck trims are created equal. This article covers the most luxurious pickup trucks that don't sacrifice practicality.
10
2022 GMC Sierra Denali Ultimate
GMC's trucks are famous for their dependability and craftsmanship. If you're looking for a full-size pickup truck where utility merges seamlessly with luxury, the GMC Sierra Denali Ultimate interior features will blow you away. The Denali Ultimate presents premium features, enhanced styling, and high-end technologies, offering everything that passionate gearheads would want in a pickup.
As the demand for luxurious pickups continues to grow, the GMC Sierra Denali Ultimate offers an Alpine Umber interior with full-grain leather seating, massaging front seats, stitched badging throughout, micro-suede headliner, sun visors, and state-of-the-art tech features. You also get a decent range of advanced safety features, including a forward collision warning, automatic emergency braking, lane departure warning, and a surround-view camera system. The perfect blend of performance, convenience amenities, and safety features makes the GMC Sierra Denali Ultimate the perfect luxury pickup truck.
RELATED:10 Luxury Cars With The Best Interior Design
9
2018 Mercedes-Benz X-Class
The Mercedes-Benz X-Class is not only robustly constructed for demanding tasks, but also boasts a supremely engineered and styled interior, bringing practicality and sophistication to the segment. With its premium leather upholstery, soft-touch surfaces, and advanced tech features, it offers a level of refinement rarely seen in the pickup world. Even better, the seats are ergonomically designed to offer much-needed support when going on a road trip.
For enhanced convenience, the truck's infotainment system offers intuitive controls, a crisp display, and smartphone integration to keep you connected and entertained. Despite all these great features, the Mercedes-Benz X-Class failed miserably and was discontinued, meaning you can only find one in the used car market.
8
2021 Ford F-150 Limited
The Ford F-150 has been one of America's best-selling pickup trucks for 46 years in a row, thanks to its exceptional performance and versatility. For those looking for a capable truck, there is a range of configurations, trims, and engine options to suit your needs. However, for those looking for practicality and comfort, the Ford F-150 Limited represents the pinnacle of luxury within the series.
Great attention to detail has been intertwined in every aspect to ensure the 2023 Ford F-150 Limited offers all the convenience features you could want. The cozy interior features leather upholstery, heated seats in both rows, ventilated and massaging front seats, a dual-pane sunroof, and a suite of safety and assist features. Wood accents and soft-touch materials grace the interior, adding both elegance and warmth to the overall ambiance.
Whether you're going on a road trip or navigating rough terrains, stay connected and entertained thanks to the 8.0-inch high-tech infotainment system equipped with the latest connectivity features and navigation. Overall, the Ford F-150 Limited combines ruggedness with luxury features to offer the best of both worlds.
RELATED: These Are The 12 Most Luxurious Pickup Trucks Ever Made
7
2021 Ram 1500 Limited
The Ram 1500 is well-known for its rear suspension, impressive towing capacity, uncompromising durability, and luxurious features. However, the Limited trim sets itself apart with its excellently refined interior. The seats are covered with soft leather upholstery and are incredibly comfortable to provide much-needed support during long drives. Black argent open-pore wood textures accentuate the interior design, adding to the overall great ambiance.
When it comes to technology and safety, the Ram 1500 Limited comes with a comprehensive suite of features, including a large touchscreen infotainment system, a premium sound system, smartphone integration, blind spot monitoring, and adaptive cruise control. One of the unique features you get with the Ram 1500 Limited is a heated steering wheel. The innovative technology and upgraded off-roading upgrades mean the Limited is built to serve.
6
2021 Toyota Tundra Platinum
The Toyota Tundra is one of the toughest and most capable pickup trucks you can buy today, and has recently received upgrades to suit customers' needs. For drivers looking for a potent yet comfortable truck, the Tundra Platinum offers a premium leather-trimmed interior and a dark-chrome accent, providing an SUV-like atmosphere. Best of all, the seats are ergonomically designed to allow even the tallest driver to sit and drive comfortably.
Whether you are concerned about the hauling capacity or want a truck you can use to transport your family, the Toyota Tundra Platinum doesn't compromise practicality and offers passengers a lap of luxury. However, the Toyota Tundra can be costly to maintain.
5
2020 Chevrolet Silverado 2500HD High Country
The Chevy Silverado 1500 is a true workhorse famous for its impressive performance and timeless style that only a few trucks can rival. For those looking for an utterly luxurious pickup truck interior, the Silverado High Country is the most supreme of luxury trucks thanks to the long list of comfort and convenience features it offers.
The High Country seats are covered with premium leather upholstery to offer a comfortable seating experience, heated and ventilated, and the front seats are power-adjustable. As a premium trim, the High Country also comes with a high-end infotainment system with integrated navigation, smartphone integration, a ton of intuitive controls, a best-in-class audio system, and safety technology. Its luxury is taken a step further by a heated leather-covered steering wheel.
4
2021 Nissan Titan Platinum Reserve
Nissan is one of the automotive manufacturers that doesn't seem to focus on luxury vehicles, so it is no surprise that the Nissan Titan has never managed to be as successful as its rivals. However, the Nissan Titan Platinum Reserve comes with many creature comforts and convenience features any driver would want. Succinctly, the luxurious interior features premium leather-appointed seats, climate-controlled front seats, open-pore wood-tone paneling, a heated leather-wrapped steering wheel, and a 9.0-inch touchscreen infotainment display.
For enhanced safety, even in bad weather, the Platinum Reserve checks in with driver-assist features, including forward collision warning, blind-spot monitoring, cruise control, and a 360-degree camera. This truck's windshield wipers are rain-sensing, which further improves safety.
RELATED: These Were The Most Luxurious Trucks Of 2020
3
2022 Honda Ridgeline Black Edition
The Honda Ridgeline is one of the most aggressive pickup trucks on the market and features an ultra-versatile cabin. If you want a dependable SUV-like truck, there are many things you may like about the Honda Ridgeline Black Edition.
As a premium trim level, the Honda Ridgeline Black Edition sports model-specific leather-trimmed seats, automatic climate control and heated seats, a heated steering wheel, a moon roof, and a wireless phone charger. The centerpiece is an 8.0-inch touchscreen infotainment system with intuitive control and integrations. Overall, the Black Edition offers everything you would want from a mid-size truck, presenting luxury and practicality.
2
2022 Rivian R1T
The Rivian R1T is a family-friendly futuristic-looking all-electric pickup truck that promises the best of both worlds for those looking for a comfortable truck. Its interior comes with premium leather upholstery, metal accents, and sustainable wood trim. The heated and ventilated seats allow you and other occupants to customize comfort depending on the weather.
Technology is also at its peak inside this luxurious truck. The large intuitive touchscreen display gives you access to the truck's functions, infotainment, and navigation. Driver-assist features are also standard. Overall, the Rivian R1T's combination of luxurious features and impressive towing capacity makes it the ultimate electric pickup truck in 2023.
1
2022 Nissan Frontier Pro-4X
The Nissan Frontier Pro-4X is a capable truck built for off-road performance. Although it doesn't feature the most luxurious interior, the 2022 redesign made it an option worth considering for those looking for comfort and practicality in one package. The newest model comes with leather-appointed seats, heated front seats, a premium audio system, a wireless charger, and a sunroof. Considering that pickup trucks are meant for work, these features are enough to put the Frontier Pro-4X on the list of luxurious pickup truck interiors.